Knights of Columbus
If you're interested in helping those in need, serving your parish, and growing in your faith, then the Knights of Columbus is the organization for you.
The Knights of Columbus is the world's largest Catholic Men's Organization promoting the principles of Charity, Unity, Fraternity, and Patriotism. It is dedicated to serving the parishes, the family, and the community. Any practicing Catholic men over the age of eighteen may join this organization. If you are searching for an opportunity to put your time, treasure, and talents to use in our parish and community, please consider joining our council.
Click here to go to the Knights of Columbus website.
Rosary Altar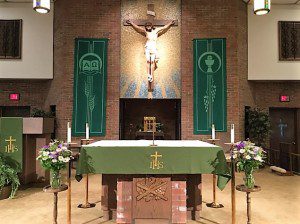 The Rosary Altar Society is a dedicated group of women helping to bring increased devotion to the Blessed Virgin Mary through prayer and the recitation of the Rosary.  All women of our Parish are welcomed and encouraged to join the Rosary Altar Society.
Rosary Altar Society supplies the majority of the altar cloths, candles, wine, and hosts.  For more information on becoming part of the Rosary Altar Society, please call the Parish Office (419-562-1346).
Catholic Ladies of Columbia
Incorporated in Ohio March 12, 1897, the Catholic Ladies of Columbia is a non-profit fraternal life insurance society whose sole purpose is to meet the needs of individuals through a sound life insurance program and competitive financial products while bringing members together in fellowship and service to others.
The Society, headquartered in Columbus, Ohio since 1941, is authorized to sell life insurance, annuities, traditional and Roth IRAs in Ohio, Indiana, Kentucky, and Michigan.  CLC boasts over 10,000 active policies.
Members build lifelong friendships, enjoy social activities, enrich their spiritual life, and serve their parishes and communities through CLC's system of councils.  The Society has a representative form of government and convenes every four years to elect its officers and Board of Directors.
CLC membership is simultaneous with the issuance of a life insurance certificate, annuity, or IRA.  Members enjoy numerous fraternal benefits at no additional premium or cost.