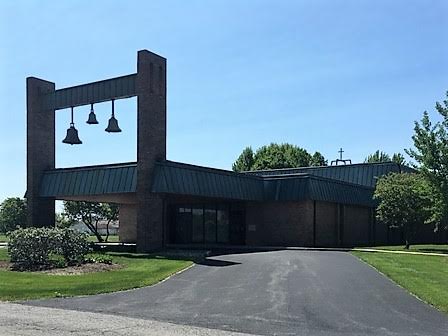 Parish Mission Statement
In Jesus Christ, in Union with the Holy Trinity, we exist for the Salvation and Sanctification of Souls; for the Love of God and Love of Neighbor.
We strive to live our faith as Catholic Christians and to be the visible presence of Jesus Christ in this part of His kingdom. We seek to be good stewards of God's gifts to us, to share the Good News with others, to promote respect for life, and to reach out to all who need a helping hand.
---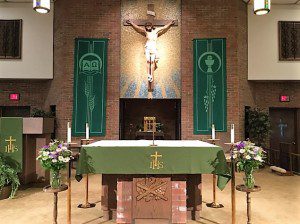 Parish Vision Statement
We the people of God at Holy Trinity will strive…
To make all feel welcome at Holy Trinity Catholic Church.
To provide a warm atmosphere for meaningful celebrations of Mass and the Sacraments.
To share the treasures of our heritage with all who are searching for God.
To bring forth the gifts of all members that can enrich each of us.
To witness to our faith before others in word and deed.
To provide a Catholic education for our youth and opportunities for continuing adult formation.
To encourage and support families and provide for fellowship among parishioners.
To participate with other Christian faith communities in prayer and social mission concerns.
To broaden our horizons to the wider community of our brothers and sisters around the world.
To focus on evangelization for the renewal and growth of our parish community.
We are forever grateful to God and to all those who have passed the Faith on to us; we will do our utmost to pass it on to future generations.
---
Register As A Parishioner
We warmly welcome all who wish to join our Holy Trinity Parish family. Please complete the Parish Registration Form and we will be in touch with you. Our parish Welcome Packet is available at the Parish Office or in the main vestibule of the church.
---
History Of Holy Trinity
When a priest from Peru, Ohio, gathered and ministered to the few Catholics in Bucyrus in 1835, they celebrated Mass in private homes.
The Precious Blood Fathers who came from Thompson also celebrated in the home of Andrew Kronenberger.
The mission purchased the former First Presbyterian Church, for use as a church and school after necessary renovations. At first, the school operated only on Sundays. In 1881 it became the first Holy Trinity Catholic School, staffed by lay teachers.
Priests from Wooster and Shelby Settlement served the mission. Father Joseph Reinhardt, who oversaw the mission in 1867, was killed while attempting to board a freight train so that he could be on time for a Confirmation ceremony.
Father D. Zinsmeyer was assigned as the first resident pastor in 1871 and served until 1877.
The parish acquired a cemetery, constructed a new church, and continued to support the growing school. Over the years, Holy Trinity replaced and rebuilt facilities, church, and school, to keep up with the needs. From its start with a handful of pioneers, the parish grew into one of the area's larger congregations.
Parishioners participated in a variety of community service activities: St. Francis Community Kitchen serves meals to those in need; St. Vincent de Paul spends time at the area nursing homes; Holy Trinity Crafty Bee's make prayer blankets, and parishioners assist the Salvation Army at Christmas with a giving tree for the area's needy children. Holy Trinity Church is among the sites on tours given by Bucyrus Tourism and Visitors Bureau.
Within the past twenty-five years, attendance has declined, as it has at other area churches, but this stable parish continues its mission to be a visible presence of God's Kingdom on earth.