Liturgical Ministers Schedule
Altar Servers
Altar servers are an integral part the celebration of Holy Mass.
They minister at the liturgy by leading processions with the crucifix and candles and by assisting the Priest and Deacon throughout the Mass.
Assisting the priest during Mass is an important ministry filled by dedicated youth. They are committed to serving God and the parishioners of Holy Trinity. They may also serve during other sacramental occasions such as: funerals, weddings, Stations of the Cross, and Adoration.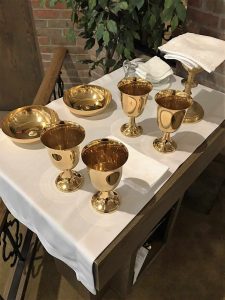 The primary role of the altar server is to assist the priest in the celebration of the liturgy during Mass. This is done through specific actions and by setting an example to the congregation by active participation in the liturgy (hymns, responses, etc.), by looking alert and sitting or standing at the appropriate times.  Servers carry the cross, the processional candles, hold the book for the priest when he is not at the altar, carry the incense and censer, present the bread, wine, and water to the priest during the preparation of the gifts or assist him when he receives the gifts from the people, wash the hands of the priest, assist the priest celebrant and deacon as necessary.  Servers are on duty from the moment they enter the sanctuary at the start of Mass until they finish cleanup after the Liturgy.
Altar servers must attend every Mass that they have been scheduled. When a server cannot be present, they must find a replacement.
Servers should wear dress clothes. Dress shoes must be worn.  Remember you are in the presence of Jesus.
Boys and girls, who have received the sacrament of First Reconciliation and Holy Communion and is in the 4th grade or above are eligible.   If you have a child that is interested in becoming an Altar Server, please call the Parish Office (419-562-1346).
Lectors
The primary role of a lector is to proclaim the Word of God from the Holy Scriptures. Lectors assist the priest by reading the First Reading, the Second Reading, and the Prayers of the Faithful during Mass. Not only should lectors be effective communicators comfortable with public speaking, but they should also be conscious of their role in expressing God's Word to the rest of the parish community present at the liturgy.
Lectors must be in full communion with the Catholic Church.
Lectors must be willing to prepare ahead of time in order to study the meaning and pronunciation of their assigned readings.
Lectors must also be present at least 15 minutes prior to the start of the Mass.
If you would like to be a lector, please call the Parish Office (419-562-1346).
Extraordinary Ministers of Holy Communion
All ministers of Holy Communion should show the greatest reverence for the Most Holy Eucharist by their demeanor, their attire, and the manner in which they handle the consecrated bread.
If you would like to be an Extraordinary Minister of Holy Communion, please call the Parish Office (419-562-1346).